Business Profile
Services
Testimonials
Staff/Contact
Hours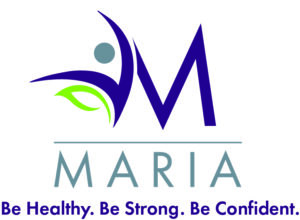 If you are ready to be the best version of YOU, I got you!
---
I'd love to get to know YOU. Are you struggling with prioritizing yourself, lack of energy, looking in the mirror and loving who you see, lack of confidence, emotional eating, stress management, hormonal imbalances, lack of self-esteem, six different sizes in your closet, self-care, self-love or too much focus on food?
YOU are who I'm here for.
I coach people who desire to create optimal health and well-being in their lives, providing tools, educational resources, nutritional programs and community as part of a transformational journey to enable them to take charge of their own lives. My coaching is rooted in my 360-degree approach, emphasizing health and wellness through a Process of Mindset, Education, Accountability, Nutrition, Activity and Successes. I have seen firsthand that through self-realization and mindfulness, we are better able to understand our own patterns, achieve our goals, and reform our most limiting habits. My followers trust me as their advocate and a leading voice in their lives. I've been honored as a Brand Ambassador for Strong Women, was awarded the 2019 Women of the Year and 2019 Excellence Award in Health and Fitness from the Southwest Communities Chamber of Commerce and have been featured in both local and national publications.  Most recently, I was honored as the 2020 Woman of the Year by the National Association of the Women's Interactive Network. But this journey is about you, not me! I'd love to hear what's in your head and on your heart about your life and health.
Complimentary 30 minute Health Assessments and nutritional programs to fit your individual goals. 
Client Testimonials
---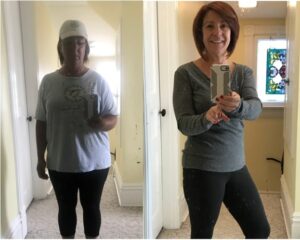 Laura E.
"Maria's skills as a health coach are amazing. She understood my personal situation and provided the tools and guidance for me to achieve my goals. The journey was much faster than I could have imagined when I first started, but she helped me understand that there is not really an end once you reach your weight goals. The journey started with me gaining much more energy and my clothes fitting better then went to reduced joint inflammation and, as I reached my goal, no longer needing my CPAP machine. I feel so much younger now! It's a transition to a healthy lifestyle from here on. Thank you Maria Allshouse for helping me be healthy for the rest of my life!"
---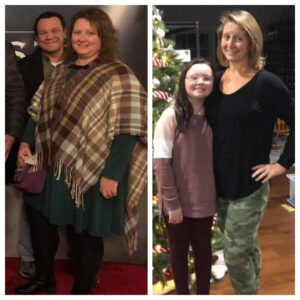 Sherry C.
"Like so many women, I have been fighting with my weight my entire life.  The true definition of a yo-yo dieter.  I felt like every Monday I would be trying to start another plan, after failing every week after week.  I reached out to Maria because her story seemed so similar to my own. She was real and she knew where I was in the moment. 
I'm in my 40's with over 100 pounds to lose and had no place to start. I realized I needed to make a change the day I could barely bend over and tie my own shoes. I quickly realized that if I don't make a change, my health would be at risk taking a path of potential chronic disease. I knew in the upcoming year we had big plans, my oldest daughter would be traveling to Florida, making her confirmation and we had vacation plans. I did not want to look back at those pictures and see this unhealthy version of me. 
I had a goal; I had the motivation, I was ready. I started and week by week the weight began to release. I realized that I did not have to be this way forever FINALLY!  Planning out day by day and Maria's plan made it SO SIMPLE! I was finally making daily, weekly, and monthly goals for ME. Personally, writing it all down really helped get me to a healthy state of mind. This is probably one of my biggest takeaways. Until we really look at what we are doing and what is eating at us, we will continue to stay in that vicious yo-yo diet mindset.
So many milestones on my journey, but I will mention two that really hit home for me.
On August 14, 2020 (8 months after I started my journey), I turned 44. On that day I couldn't have been more thankful for finding Maria. I took my daughter back to school shopping and thought I'll buy myself a new pair of jeans. Luckily, the dressing room was opened. Because the size I picked was too big, I had to go back to get a smaller size. Never have I had to go back for a smaller size. I had not fit into a size 12 forever. If I had to guess, like 15 plus years ago.
My next BIG moment was on my 1-year anniversary of starting my journey, December 30, 2020. The picture on the right is with my daughter Lily. Over the last year I have lost an equivalent to my daughter Lily and then some, over a 100 pounds. I just could not believe that over this past year, a year of so much adversity, I felt such a sense of accomplishment that I had FINALLY gained control of my health. I just could not believe that I lost the equivalent to a Lily and then some.  It was a surreal moment for me. I finally beat something I had been fighting all my life, my weight.
Not only did I beat my never-ending battle of eating for the wrong reasons and releasing over a 100 pounds, but I gained so much more. What did I gain? I have so much more energy, I can now bend over and tie my shoes, I don't have my health weighing on my mind any more, I no longer have the worry of fitting on rides or worrying about the weight limit to ride, I no longer have to worry about fitting into an airplane seat or having to ask for an extension, I've eliminated my risk of chronic disease, I've gained more confidence, increased my muscle, released over 40% of bodyfat, I cleaned out my "safety nets" of old clothes (there is no going back), and I am looking forward to Spring and Summer shopping, exercise is no longer a chore, it's a lifestyle and I love every minute of it.
The hardest part is starting but Maria is with you every step of the way! She knows how you feel, she knows what you are thinking, and she's been in your shoes. All you have to do is make that ONE SIMPLE DECISION and just start. What are you waiting for?"
---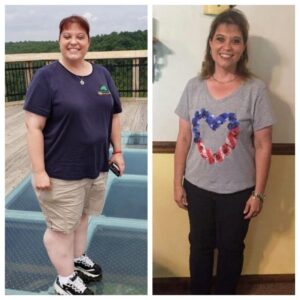 Suzette M.
"For many years of my adult life I've struggled with my weight because of a medical condition. I have blamed myself after many failed attempts as I yo yo dieted. I met Maria and her positive energy in her own weight loss journey gave me the push to try again and this time with her by my side as my coach. I lost 85 pounds in 9 months. I am running again and doing things I haven't done in 25 years! Not only am I in clothes sizes that I haven't been in since my early twenties; my overall health has improved tremendously. I am no longer taking most of my medications and my blood pressure and cholesterol have dropped significantly. I was headed down an unhealthy path and now I have been maintaining this healthy lifestyle for a year and plan to continue that healthy journey with Maria by my side!"
---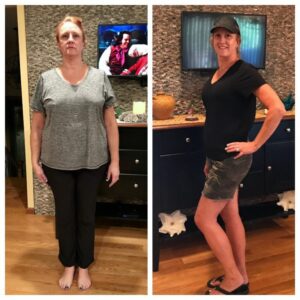 Kimberly S.
"One year ago today at the age of 51, I decided to change my health for me!  I wasn't feeling comfortable in my own skin. I thought my age would hinder my weight loss. It wasn't my age – it was my mindset!
As I began engaging in the educational tools and working with Maria – I started seeing and feeling the results of this amazing journey I was on and I KNEW that I was going to do it this time!
I lost over 60 pounds in 8 months and changed my entire outlook with getting and staying healthy. Releasing the weight was just the start. My life has changed in so many ways. I've got a better outlook, I now want to go and do things like Barre classes, riding my bike again, and overall being more active. I've got so much more energy. I have learned to make myself a priority. My self-care is now a priority. I am feeling so much better in my own skin. My weight loss created such a domino effect in my life. 
A huge THANK YOU to Maria.  The encouragement and support that you gave me really held me accountable and made me think about why this was so important to me."  
Contact Details
---
Maria S Allshouse, Healthy Lifestyle Transformation Coach
Phone: 412.215.7334
Email: maria@mariaallshouse.com
Website: mariaallshouse.com
Hours of Operation
---
9:00 a.m. to 8:00 p.m. Monday-Friday, Sat 9:00 to Noon