Company Profile
Products / Services
Hours
Photo Gallery
Testimonials
Contact Info
[one_half]
[/one_half][one_half_last]
Social:
CMIT Solutions (CMIT) is one of the nation's leading providers of information technology (IT) professional services and products to small and medium-sized businesses. By focusing on developing and maintaining local, trust-based relationships with its customers, CMIT is able to meet all of their IT needs. CMIT offers a broad spectrum of proactive computer maintenance, monitoring, security, backup, network, and information technology solutions, along with quick response services that are focused on keeping the business up and running. "We worry about IT, so our clients don't have to."
[one_half]
CMIT offers the following list of services: Managed IT Services; Data Protection & Back-up; Networking; VOIP Solutions; Hosting and Cloud; Applications (from cloud-based apps to custom development) e.g. Email, Office 365, Quickbooks, Sharepoint, Secure File Sync and Share, Secure Access; Security and Compliance, Procurement; Virtual CIO/CTO.
[/one_half][one_half_last]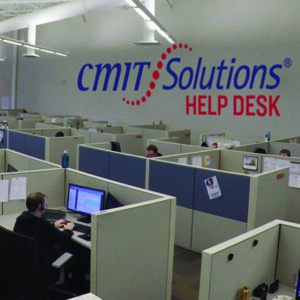 [/one_half_last]
Our normal business hours are Monday through Friday, 8:00 a.m. to 5:00 p.m. However, we serve our clients 24 hours a day, 7 days a week, every day of the year, to enable them to keep their businesses up and running.
"Our line of work is dependent on IT and we can't have any downtime. CMIT has helped us grow from three employees to 20, and they've helped us manage our growth and begin working with remote employees, keeping us all connected."
Michael Mills, President | Broadwing Aviation