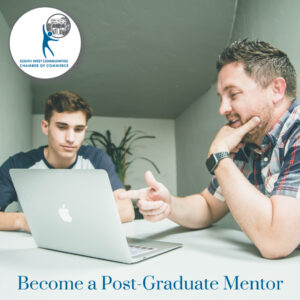 Post-Graduate Student Mentorship Program
The South West Communities Chamber of Commerce has recently rolled out a brand new Post-Graduate Student Membership program which gives new graduates from College, Universities and Trade Schools the opportunity to join the chamber for free. This membership helps students integrate into our region and fill much needed job roles at our local companies. The South West Communities Chamber of Commerce is seeking interested business owners and business leaders in our region to mentor new post-graduate student members.
Mentorship Duties Entail:
Reaching out to the post-graduate student and welcome them to the Chamber of Commerce

Meet one-on-one with the student and help guide them as a member

Learn about the post-graduate student and their career goals

Be the point-person at chamber networking events to help introduce the student to chamber members

Guide post-graduate students through any questions regarding the chamber, their careers
Mentors will be recognized on the South West Communities Chamber website with their headshot, logo, company information and contact information.
Interested in being a mentor?* Contact mandi@southwestregionalchamber.org
*To become a mentor to our post-graduate members you must be a member in good standing