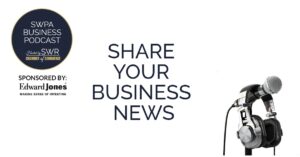 Welcome to the SWPA Business Podcast sponsored by Matt Lichtenstein of Edward Jones. The SWPA Business Podcast is a chance to give a voice to your company, share your updated business news and increase reach to potential clients. This weekly podcast will be taped in house at the South West Regional Chamber of Commerce and be shared across our social media platforms which include LinkedIn, Facebook and Instagram as well as across podcast channels. 
What is the Selection Process? 
There are three different ways that you can participate in our podcast. 
Focused Selection: One podcast per month will be specifically selected by the chamber director and our board. 
Random Selection: Two podcasts per month will be dedicated to randomly selecting chamber members based off a random number generator*
Paid Opportunity: One podcast per month will be open to a paid opportunity. The chamber director and board will go through a vetting process to ensure that the guest will meet SWPA Business podcast standards. Applying for a paid podcast spot does not guarantee you a spot on the program. Apply Here 
What is the SWPA Business Podcast Format: 
The SWPA Business Podcast will be taped at the South West Regional Chamber of Commerce building. The show taping will take between 30 minutes and 1 hour depending on the conversation, guest and time allotment for taping. The show will be live-to-tape which means there will be no pauses, breaks or re-shoots. The show will be video taped. 
Am I able to use the footage for personal use? 
Any guest who appears on the SWPA Business Podcast will be able to utilize the footage for their own needs. This includes, but is not limited to, reposting on social media channels and on your website. editing and adding additional footage. Any reposts which include editing must be approved by the SWPA Business Podcast director, Mandi Pryor. 
Can more than one guest come on the program? 
At this time only one guest is allowed on the program at a time
How long will it take for the podcast to come out? 
The podcast can take anywhere from one week to two months to air depending on the video queue
How can I prepare for my podcast? 
Dress appropriately. Business attire recommended but not required. Small patterns on clothing tend to buzz on camera so please avoid. Also, please avoid black if possible. Black can be to harsh on camera. Please avoid heavy makeup.  The podcast tapes at 10 a.m. on Wednesdays. Please arrive 10 minutes before your shoot.