Company Profile
Services
Staff
Hours of Operation
Photos
Contact Info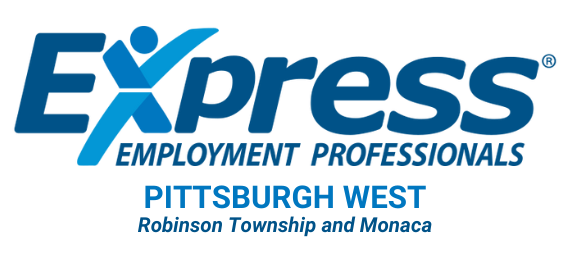 Social:
Express Employment Professionals Pittsburgh West is an award-winning staffing firm based in Robinson Township celebrating our 15th anniversary this year. Our goal is to help as many people as possible find good jobs by helping as many clients as possible find good people. Express Employment Professionals has put more than 9 million people to work worldwide.
The Express Pittsburgh West Robinson Township office helps local businesses and job seekers in the Allegheny County West area. Our Monaca office serves businesses and job seekers in the Beaver County area.
Helping Businesses: The Express Pittsburgh West Robinson Township team takes the time to understand your business needs so we can connect you with screened and qualified workers in a wide range of Office Services, Skilled Trades, Light Industrial, Advanced Manufacturing and Professional positions. In addition to staffing solutions, we have tools to help ensure your workforce is operating as efficiently as possible.
Helping Job Seekers: Whether you are starting a new career, re-entering the workforce or supplementing your income, Express Pittsburgh West has the resources to match you with a job that fits your desires and abilities. From manufacturing jobs to executive recruitment to the administrative positions, Express Pittsburgh West can empower you to find a job that meets your needs.
Full-time, part-time work schedules are available although our focus is on helping people find permanent full-time work. When you collaborate with Express Pittsburgh West for your job search, you'll never be charged a fee to find a job.
Want to learn more about how the Express Pittsburgh West team can help you find talent for your team or to find a job? Call us at 412.494.2000.
Website: www.expresspros.com/wpittsburghpa
Temporary and flexible staffing
Evaluation and direct hire
Professional and contract staffing
HR services
Online payroll processing
Monday – Friday:  8AM – 5PM
Address:
6200 Steubenville Pike-Route 60
Suite 101
Pittsburgh, PA 15136