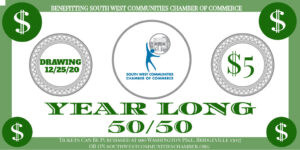 The Chamber is excited to host a Year Long 50/50! Starting on January 1st, 2020 and running through December 25th, 2020 the chamber will be selling $5.00 tickets. On December 25th, 2020 the chamber will draw a winner who will take home half of the monies collected throughout the ENTIRE YEAR! 
The Year Long 50/50 is an ongoing fundraiser for the South West Communities Chamber of Commerce which helps the chamber to provide the tools to assist in the operation and promotion of area businesses, and our members work together to make our communities desirable places to live and do business.
Member municipalities include the Boroughs of Bridgeville, Carnegie and Heidelberg, and the Townships of Collier, Scott, South Fayette, and Upper St. Clair as well as surrounding regions in and around the South Hills.