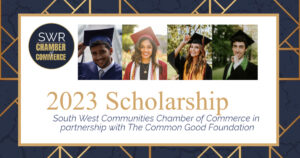 High school seniors from Carylton School District, Chartiers Valley School District, South Fayette School District, Upper St. Clair School district and surrounding schools are eligible for The Common Good Foundation's 2023 Scholarship worth $1,000.00. This year, due to the success of the 2023 Car Raffle hosted by The South West Regional Chamber of Commerce and The Common Good Foundation two scholarships will be given out to individual students.
View Webpage: https://sway.office.com/rGJve0KcPqD0zLoV?ref=Link
View and Download Adobe Document: https://acrobat.adobe.com/link/review?uri=urn:aaid:scds:US:ef72ddc3-e38b-3f8b-abcf-a2173b1e9432 
Requirements:  
The following must be met for eligibility:  
1). High School Senior 
2.) Must have a minimum 3.2 GPA  
3.) Provide 1 Teacher Recommendation 
4.) Provide a copy of high school transcript (does not have to be official copy) 
5.) Complete this application form which includes a typed 450-600 word essay answering the following
Tell us about a personal achievement that makes you proud. 

What is your greatest strength/ weakness? 

Why do you deserve this scholarship? 

Is there anything else you would like to add? 
Submit a 30 second video introduction. Please indicate on the application below if the South West Regional Chamber of Commerce is allowed to share on social media. Also, please have a parent sign their approval for release of media. 
Students must send the above information and include the application located below postmarked by Monday, February 14th, 2023, to:  
South West Regional Chamber of Commerce  
Attn: The Common Good Foundation Scholarship  
990 Washington Pike 
Bridgeville, PA 15017 
No applications will be accepted after the deadline. The winners will be notified in early April 2023 at least one month prior to the presentation.  
The South West Regional Chamber of Commerce in partnership with The Common Good Foundation is proud to be able to offer these scholarships to students in Western Pennsylvania! If you have any questions, please do not hesitate to contact the South West Regional Chamber of Commerce executive assistant Mandi Pryor  
Thank you for your cooperation and support!  
Mandi Pryor
Executive Director
mandi@swrcoc.org
(412) 221.4100
South West Regional Chamber of Commerce  
(Please print or type information) 
First Name:  
Last Name:  
D.O.B. (mm/dd/yy):  
Mailing Address:  
Number/Street:  
City:  
State:  
Zip Code:  
Home Phone:  
Email Address:  
Current School Information:  
High School Dates of Attendance:  
What University/College/Technical School will you be attending?  
Anticipated Major/Field of Study:  
Checklist:  
__ Application Form  
__ Typed Personal Essay 
__ School Transcript  
__Teacher Recommendation 
__30 Second Video Introduction 
Parent/ Guardian Video Signature for Release of Media:  
I, __________________________________, give The Common Good Foundation and The South West Regional Chamber of Commerce permission to share this video across their social media platforms.  
I, __________________________________, decline permission to share this video submission on The South West Regional Chamber of Commerce social media platforms. * 
Print Name _____________________________________________ 
Signature _______________________________________________ 
*Declining permission to share student video introduction online in no way jeopardizes the student's scholarship eligibility  
__ Official Transcript or Copy of Current Report Card  
Certification:
I acknowledge that I have read the eligibility requirements on the attached form. All of the information furnished in support of this application is true and complete. If requested, we will submit proof of the same. Failure to do so shall invalidate this application and shall result in termination of the scholarship. 
Signature of Applicant:  
(Must be Signed) ________________________________________ 
Signature of Parent/Guardian:  
(Must be Signed) _________________________________________ 
Important: This application becomes valid when all terms on the above checklist are provided and submitted to:  
 
South West Regional Chamber of Commerce 
Attn: The Common Good Foundation Scholarship  
990 Washington Pike
Bridgeville, PA 15017