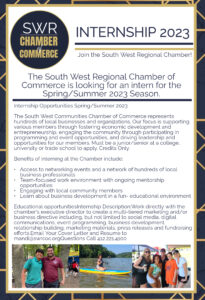 Internship Opportunities 2023
Spring/Summer 2023
The South West Communities Chamber of Commerce represents hundreds of local businesses and organizations. Our focus is supporting various members through fostering economic development and entrepreneurship, engaging the community through participating in programming and event opportunities, and driving leadership and opportunities for our members.
Benefits of interning at the Chamber include:
Access to networking events and a network of hundreds of local business professionals
A team-focused work environment with ongoing mentorship opportunities
Engaging with local community members
Educational opportunities
Learn About Business Development in a Fun, Educational Environment
Internship Description:
Work directly with the chamber's executive director to create a multi-tiered marketing directive including, but not limited to social media, digital communications, event programming, business development, relationship building, marketing materials, press releases and fundraising efforts.
Questions Call 412.221.4100