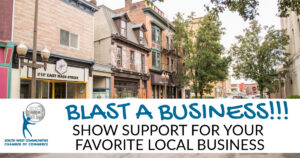 Brand new to the South West Regional Chamber of Commerce is a new program to help you support your favorite local business! So what does it mean to blast a business? Think of a Flock of Flamingos only instead of flamingos the South West Regional Chamber will provide a bevy of banners, balloons and signs to help visibly promote the business in the community! Give recognition where recognition is deserved!!!! In addition to a one-day visible business blast, the South West Communities Chamber of Commerce will also blast them across our social media pages for extra recognition. Don't miss this opportunity to help your local business owners stay open during the pandemic! Don't have a brick-and-mortar? Help our other business owners by sponsoring a social media blast for them. Schedule now for a fall blast! 
Brick-and-Mortar Business Blast: $75
Online Only Business Blast: $25
Schedule a Business Blast HERE.
Fill out our form in its entirety and we will get in touch with you to get all the details!