2021 Winners!!! Thank you to everyone who participated!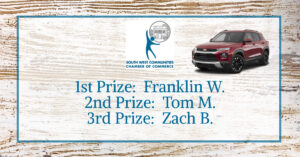 Win a BRAND NEW Chevy Trailblazer 2021 with AWD from Colussy Chevrolet or take home $18,000 cash.
Special thanks to our sponsors of the South West Communities Chamber of Commerce 29th Annual Car Raffle.
Our Platinum Sponsor is Patricia John and Jamie Roach, financial advisors for Hefren-Tillotson.
The 2nd place sponsor is Topgolf, who will be providing a $450 golf package for 12 that includes 3 hrs of food and non-alcoholic beverages.
The 3rd place sponsor is Calabro Tire & Auto Service who will be donating a tire & auto package worth $250.00.
Help support the chamber, The Common Good Foundation and our 2022 scholarship winner and the local business community by buying a ticket today.
 Tickets go on sale on June 15th, 2021. Buy Online here, call 412.221.4100 or drop by the chamber office Mon-Thurs from 8:00 a.m.- 1:00 p.m.
The South West Communities Chamber of Commerce will have a police officer present at the time of raffle to oversee proceedings for this year's raffle drawing.
Our board of directors and our executive director want to ensure that you feel secure in your purchase of a raffle ticket in 2021.
*Because of low vehicle inventory due of COVID-19 the color of the display vehicle is subject to change. The winner will be able to select a color of their choice as long as it is in stock at the close of the drawing.